NaVCIS Leisure Officer, Tim Booth, shares his tips to help you ensure the leisure vehicle you are purchasing is the genuine item.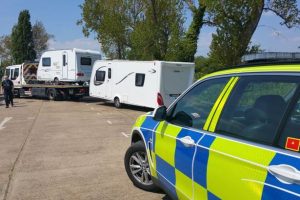 Purchasing a motorhome or caravan may be one of the most expensive purchases you ever make. Unfortunately, this also makes them a prime target for criminals.
Many leisure vehicles are broken into and stolen every year but this isn't the only way you can become a victim. In some cases, you could be targeted before you have even purchased the vehicle. A common scam is vehicle cloning, which is when criminals take the identity of a legally registered vehicle and use it to hide the identity of a stolen or salvaged vehicle. If you are found to have a cloned caravan or motorhome, it's likely that you will lose the vehicle and all of the money you paid for it.
Criminals can either remove the number plates off a legally registered vehicle or, more commonly, have fake number plates produced illegally
These plates are attached to the stolen vehicle, meaning there are two vehicles with identical number plates on the road at the same time — one legal and the other illegally cloned.
Recently, NaVCIS Leisure Office, Tim Booth, appeared on BBC1 daytime show, Scam Interceptors, to talk about the risks around cloned leisure vehicles. Below are some tips to make sure you don't get caught out and the best way to look after your new travel companion after the purchase.
Ensure the vehicle is not stolen or cloned:
• Buying a caravan or motorhome is an enormous financial outlay, so it's important to know you are getting a genuine product. You can help to ensure the vehicle is not stolen or cloned by asking the vendor to prove ownership and history.
• Ask the seller if they have any photographs of them using the vehicle. If they have owned the caravan or motorhome for a number of years, there should be plenty of holiday photos.
• Ask for information about any problems with the vehicle. Has the seller made any repairs or alterations while they have owned it? Ask to see the alterations or any paperwork associated with them.
General security tips:
• Ensure you have a record of your vehicle identification number (VIN). Register as the keeper of the caravan or motorhome with the Central Registration and Identification Scheme (CRiS) – this will allow police or other law enforcement officers to quickly check who the owner is.
• Consider use of aftermarket security devices – these should be certificated by Sold Secure or SBD (Secured by Design). Tracking systems should be Thatcham approved – check if your insurer has a preferred company as you may then be entitled to an insurance benefit.
• Clear out your belonging when the caravan is not in use. Leave curtains and cupboards open so potential thieves can see there are no valuables inside.
Using an alarm system:
• Always keep a charged leisure battery connected to your vehicle as this is used to power communication and tracking units.
• If you receive a battery low warning, this could be the first sign that a theft is being attempted, as thieves will often try to disconnect the leisure battery before entering the vehicle.
• If you receive an alarm trigger alert, never treat it as a false alarm. Thieves will often trigger an alarm and then wait to see if action is taken before returning later to steal the vehicle.
Using a storage facility:
• Visit the site before making a booking and see how easy it is to get in. The operator should check for personal identification. If you think it is very easy to collect your caravan from storage, then it may be easy for criminals to take it too.
• Use the crime map on the police website to check the postcode of any storage site. This will provide information about crimes reported in that area including vehicle theft.
• Check that your insurance policy covers your caravan while it is in storage.