Targeting crime that affects the road haulage and freight transport industry in the UK
The NaVCIS Freight team is a highly-valued partner to the haulage industry, which suffers huge financial losses each year as a result of cargo crime.
Estimated to cost the industry hundreds of millions of pounds each year, the team's role is to target crime that affects road haulage and freight transport in the UK.
Partnership working
Our team is supported by a collective of industry partners including the Road Haulage Association and the British International Freight Association (BIFA), along with UK cargo insurers.
By working alongside our partners, we are able to target these crimes, namely cargo thefts and thefts from trailers.
NaVCIS Freight membership
In 2021 NaVCIS Freight adopted a new funding model in order to sustain our services. Membership is open to the entire haulage industry: for more details, or if you would like to become a member of NaVCIS Freight, please click here.
Scale of the problem
Freight and cargo is crucial to our national infrastructure; blockages or thefts in the supply chain can have a significant impact. Highly desirable cargos are targeted by organised criminal gangs, costing the UK millions in terms of the impact to producers, transporters and consumers.
NaVCIS Freight gathers and analyses national UK cargo crime data, looking for trends and identifying tactics to support cross-border investigations that pursue offenders and prevent crime.
Our work uncovers the many ways organised criminal gangs operate. Using regular intelligence bulletins and analysis reports, we share sanitised data with UK law enforcement, NaVCIS Trusted Partners and NaVCIS Freight members.
Experts in the field
NaVCIS manages the UK National Freight Crime Database and receives notifications of cargo thefts from:
UK police forces
insurers
cargo surveyors
loss adjustors
hauliers
trade associations
This helps our partners stay one step ahead in identifying threat and risk, which provides them with opportunities to protect drivers and their goods from harm.
Our subject matter experts offer investigative support and advice to UK police forces investigating incidents of heavy goods vehicles (HGV), freight & cargo crime.
Get in touch
To find out more about our work or for information around NaVCIS Freight industry partnerships, please contact us.
NaVCIS freight crime problem profile 2022
NaVCIS has published its freight crime problem profile for 2022. This annual report gives a profile of HGV, freight & cargo crime across England & Wales 2022. The report has been made publicly available.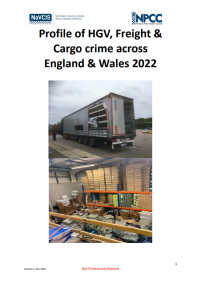 NaVCIS Freight members
Thank you to all of our members. NaVCIS Freight would not be possible without your support.
To find out how to join our sponsors / membership scheme and find out how we can work together to combat Freight & Cargo crime – please contact: freight@navcis.pnn.police.uk
Clark Woodward Hungate & Co
Marine Reporting International
North East Truck and Driver
British Parking Association
A Half Dozen Things Podcast
Mike Dawber, Field Intelligence Officer for NaVCIS Freight Desk, was recently a guest on the A Half Dozen Things podcast to talk about cargo and freight crime.
A Half Dozen Things, hosted by Pete Rushmer, is a podcast for business owners and professionals. It is the number 1 ranked podcast for transport, transport compliance and transport managers.
A Half Dozen Things is available on all podcast apps including Apple Music, Spotify and Google Podcasts.