Freight crime increased in 2020 by around 50% from 2018, at a cost of £95.7 million.
Figures published today in our annual report show that NaVCIS received 4,468 notifications in the UK of HGV, freight and cargo related crimes.
This is the third year that figures have increased. In 2018, 2,697 notifications were received, and in 2019, 4,365 notifications were received.
DCI Brett Mallon, Head of NaVCIS (pictured below) explains the severity of freight crime:
"Cargo crime has wide-reaching consequences – shop prices are driven up, supply chains are disrupted, brand reputations are harmed, and contracts have been lost following failed deliveries.
"It's important to remember that in addition, the drivers themselves can be hurt or left traumatised.
"Fortunately, violent towards lorry drivers is rare in the UK [year figures below]. But the fear of crime is significant, with drivers regularly having to stop at insecure sites for their regulated rest breaks."
2018 – 30 incidents of robbery out of 2,967
2019 – 73 incidents of robbery out of 4,365
2020 – 35 incidents of robbery out of 4,468
"By working closely with industry and the police, we are improving awareness of secure parking standards to increase the number of lorry parks in the UK that have enhanced security measures.
"This is all in an effort to disrupt criminality that is often lucrative and highly organised, and can have devastating consequences to the haulage industry.
"Only a small amount of parking locations in the UK are deemed 'secure' or 'safe'. It's important to recognise this as more than 70% of offences take place at unsafe or insecure locations."
More information about our work with partners to tackle freight crime is available here.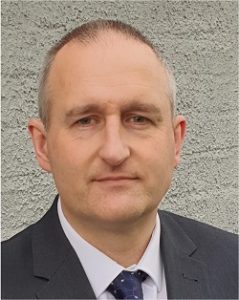 Head of NaVCIS, DCI Brett Mallon