Sharing positive results that NaVCIS have achieved both independently and whilst working with partner agencies. Here are the success stories from June.
Stolen Land Rover Evoque recovered in Poland
Estimated value: £11,250
A phone call from the Polish Police about a vehicle with false plates led to the discovery of this Landrover Evoque, which was stolen from the Metropolitan Police area in November 2020.  
John Deere 3033
Estimated value: £20,000
NaVCIS rural team assisted with identifying this stolen John Deere 3033 with colleagues at the Hungarian border. The agricultural vehicle was taken in a burglary in the Czech Republic before the owner had a chance to register it. All of the original ID had been crudely removed by the criminals.  
Two trailers seized near Cambridgeshire
These trailers were seized on a multi-agency police operation on the Cambridgeshire/Bedfordshire border. 
The Ivor Williams trailer (top) was stolen in Surrey in 2016 during a commercial burglary and identified with the help of Datatag.
The Brian James car transporter (bottom) was also seized at the same location. Identification is still to be confirmed as the serial plate and stamped number have been removed.
Cloned Range Rover Evoque recovered from Warwickshire
Estimated value: £7,750
NaVCIS officers attended an address in Warwickshire on 10th June where a cloned Range Rover Evoque was identified and seized. The vehicle was originally a 61 plate and was stolen from West Yorkshire in 2013. 
Tracker reveals location of stolen cars and parts
Estimated value: £150,000+
NaVCIS were alerted to the reactivation of a dormant tracker on a stolen Range Rover by NFU Mutual. In conjunction with Staffordshire Police, NaVCIS officers located a "chop shop" on the West Midlands border. Three Range Rovers that had been stolen the previous day were found at the site with a combined value of over £150,000. The site was scattered with vehicle parts from previously stolen Jeeps and Fords, which were seized for further investigation. Three arrests were made at the property.
M1 operation uncovers stolen pickup truck
Estimated value: £8,825
This cloned vehicle was stopped and examined during a pre-planned Operation on the M1 motorway with Derbyshire Rural Crime Team.  The van was found to be a 2015 model stolen from the Leicestershire Police area in 2021. Investigation ongoing.
Joint working with Irish Garda
Estimated value: £12,000
NaVCIS officers recovered this stolen Ifor Williams horse box while working alongside colleagues from the Irish Garda.
The horse box was stolen from North Wales in 2021.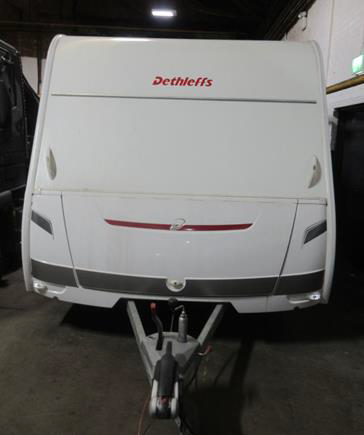 Cloned Caravan identified and seized
Estimated value: €20,500
This Dethleffs C'Go Caravan was stolen from Germany in June 2020.
It was recovered by Nottinghamshire Police who suspected it was a clone.  Enquiries are ongoing with insurers with regards to repatriation to the rightful owner.